I will be updating this thread regularly. Let's see what Iran has got in stock.
Air Superiority Fighters
Grumman F-14 Tomcat
USA Air Superiority Fighter F-14AM 70; 44 modernized to F-14AM 1974-1979 Originally 80 ordered.
Mikoyan-Gurevich MiG-29 Fulcrum

Russia Fighter
Trainer MiG-29AMiG-29UB 215 1990-1990- 18 single-seat fighters and 6 two-seat trainers were received from the USSR. 4 additional aircraft (3 single-seat fighters, 1 two-seat trainer) are ex-Iraqi Air Force aircraft.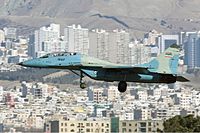 Dassault Mirage F1

France Fighter F1EQ5
F1BQ 10.1991-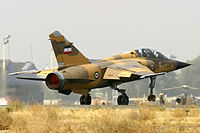 Multirole Fighters
Chengdu F-7 Airguard

China Fighter F-7M 17 1986-
1986-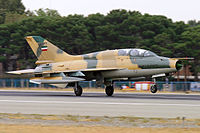 HESA Saeqeh

Iran Fighter Two versions have been observed 24+ January 2010 Six serial numbers (3-7366 through 3-7371) have been identified via photographic evidence.
McDonnell-Douglas F-4 Phantom II
USA Fighter F-4D
F-4ERF-4E received 225; 60 still in service As of 1990. 1968-1968- F-4D/E are currently undergoing an upgrade program which includes a new Chinese-built radar and other avionics.
Northrop F-5 Tiger II
USA Fighter F-5E
F-5F received 140; 60 modernized Global Security 60 F-5's modernized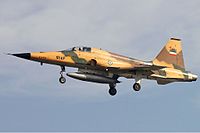 Ground attack
HESA Azarakhsh

Iran Light attack aircraft First Generation (includes twin-seat version) NA 1997 As of 2001 there were said to be six in inventory, with a production schedule established for 30 aircraft over the following three years.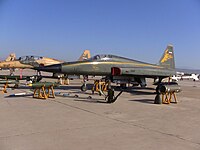 Sukhoi Su-24

Russia Strike/air-to-air refuelling tanker Su-24MK 27 Upgraded with night vision.
, Ex Iraqi Air Force
Sukhoi Su-25

Russia Close Air Support Su-25K/UBK 13 1991 7 ex-Iraqi Air Force.
HESA Shafaq

Iran Fighter Trainer / Attack aircraft 0 Reportedly there are plans to produce three versions—one two-seat trainer/light strike version and two one-seat fighter-bomber versions. To-date, only a single mockup exists.