Deadly attack hits mosque in eastern Saudi Arabia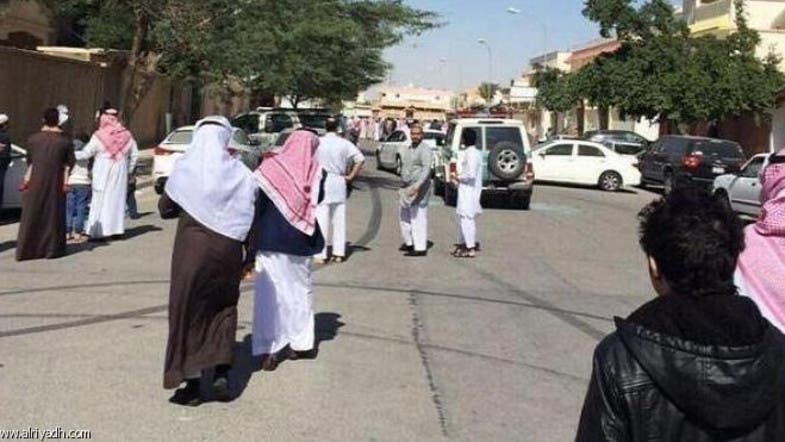 Pictures shared on social media purport to show people running away from the mosque attack. (Al Arabiya)
Text size A A A
Staff writer, Al Arabiya News Friday, 29 January 2016
At least two people have been killed after a suicide bomber attacked a mosque in Saudi Arabia's eastern governate of al-Ahsa on Friday, a Saudi interior ministry spokesman said.
Saudi authorities prevented two suicide bombers from entering Imam Rida Mosque in Mahasen neighborhood in al-Ahsa region during Friday prayers, the state-owned Saudi Press Agency (SPA) reported, citing a statement by the ministry's spokesman.
"When security men stopped them, one blew himself up at the entrance of the mosque and there was an exchange of fire with the other. He was wounded and arrested wearing an explosive belt," the spokesman said.
At least seven people were injured in Friday's attack, he added.
Residents said security forces were exchanging gunfire with five suspects.
Eastern regions of Saudi Arabia have been on alert after ISIS claimed two attacks Shia mosques last year.
In August, a suicide bomber
killed at least 15 people
in an attack on a mosque used by members of a local security force in southwest Saudi Arabia. In May, a suicide bomber blew himself up during Friday prayers at a mosque in the village of al-Qadeeh in eastern Saudi Arabia, killing at least 21 and wounding 81 others.
Last Update: Friday, 29 January 2016 KSA 15:03 - GMT 12:03
http://english.alarabiya.net/en/News/middle-east/2016/01/29/Deadly-attack-hits-mosque-in-Saudi-s-al-Hasa.html