Iran blinds acid attacker in 'eye-for- an-eye' punishment
By Staff Writer | Al Arabiya News
Friday, 6 March 2015
An Iranian man has been blinded in one eye by doctors in a literal eye-for-an-eye punishment for attacking another man in the face with acid and leaving him disfigured and blinded in his left eye, British daily The Guardian
has reported.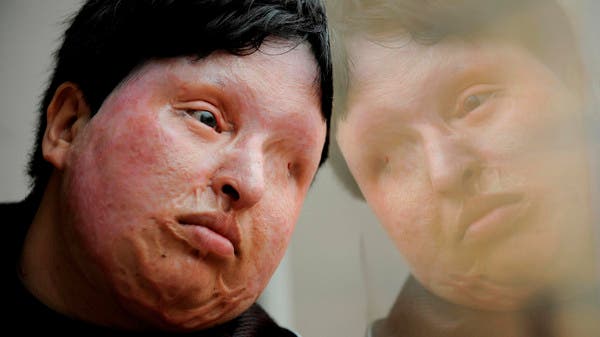 Ameneh Bahrami, an Iranian woman, blinded in an acid attack, pardoned her attacker in 2011
(File photo: AP)​
As well as the blinding, the perpetrator was also fined and sentenced to 10 years jail.
The unidentified convicted acid attacker was unconscious in Rajai-Shahr prison, Karaj city when doctors on Tuesday gouged out his left eye, the report added.
Now the punishment has been criticized by Mahmood Amiry-Moghaddam, from Iran Human Rights (IHR), an independent NGO based in Norway, who said the blinding was barbaric.
He said: "Medical staff who cooperate with the Iranian authorities in this act have broken the Hippocratic Oath and cannot call themselves doctors."
Initially the man - who was convicted five years ago - had been sentenced to lose both eyes. But in a last minute reprieve his victim – who under Iranian law has the final say in his attacker's punishment – called for the blinding in his right eye to be postponed for six months
The convicted man will be able to plead with his victim to call off the blinding of his remaining eye.
There has been an increase in acid attacks in Iran in recent years. In this case it is thought the man was hired by relatives of the victim's wife.
In an attempt to deal with the worrying trend, Iranian authorities have turned to sharia law, using retribution as a means to tackle the problem – although it is a move that has been condemned by human rights activists as inhumane.
The convicted man is not the first to be sentenced to be blinded in Iran - but it is the first time the punishment has actually been carried out. Previously doctors have refused to cooperate with officials – the report added,
Raha Bahreini, a researcher at Amnesty International's Iran team told The Guardian: "Blinding is totally prohibited under international law, along with stoning, flogging, amputation and other forms of corporal punishment provided in Iran's Islamic penal code and must not be carried out under any circumstances."
Bahreini said that Iranian authorities should instead raise awareness about the growing problem of these violent attacks.