Kerry concedes U.S. must talk to Assad to end war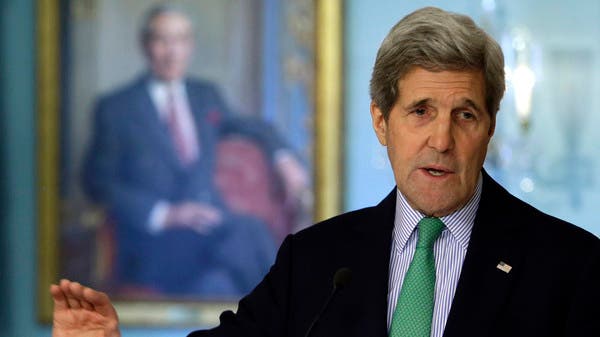 'We are increasing our efforts in a very significant way, working with the moderate opposition, but doing much more than that also,' Kerry said. (File Photo: Reuters)
Agence France Presse, Washington
Sunday, 15 March 2015
The United States will have to negotiate with Syrian President Bashar al-Assad to end the civil war now entering its fifth year, Secretary of State John Kerry conceded in an interview that aired Sunday.
"Well, we have to negotiate in the end. We've always been willing to negotiate in the context of the Geneva I process," Kerry said in an interview carried out Saturday.
He stressed Washington was working hard to "re-ignite" efforts to find a political solution to end the war.
The United States helped lead international efforts to kick-start peace talks between Assad and a splintered Syrian opposition, bringing the two sides together in Geneva for the first time early last year.
But after two rounds of talks, the negotiations collapsed in bitter acrimony and no fresh negotiations have been scheduled while the scale of the killing and devastation has mounted.
"Assad didn't want to negotiate," Kerry told CBS television.
"So if he's ready to have a serious negotiation about the implementation of Geneva I, of course, if people are prepared to do that. And what we're pushing for is to get him to come and do that," he replied when asked if he would negotiate with Assad.
More than 215,000 people have been killed and half of the country's population displaced, prompting human rights groups to accuse the international community of "failing Syria."
The country has been carved up by government forces, jihadist groups, Kurdish fighters and the remaining non-jihadist rebels.
"This is one of the worst tragedies any of us have seen on the face of the planet," Kerry said, in an interview recorded in the Egyptian resort of Sharm el-Sheikh.
He insisted that despite the challenge of the U.S.-led fight against the Islamic State of Iraq and Syria (ISIS) group that has seized territory in Iraq and Syria, Washington was still focused on ending the Syrian civil war.
"We are increasing our efforts in a very significant way, working with the moderate opposition, but doing much more than that also," Kerry said.
"We're also pursuing a diplomatic track. We have had conversations with a number of different critical players in this tragedy," he said.
Russia, which has close links to Assad, helped initiate the Geneva II talks in 2013, which were aimed at bringing about a political transition based on earlier Geneva I negotiations.
Kerry met in Geneva at the beginning of March with Russian Foreign Minister Sergei Lavrov to discuss ways of bringing all sides back to the negotiating table.
"We are working very hard with other interested parties to see if we can reignite a diplomatic outcome," Kerry said.
U.S. President Barack Obama "is extremely seized of the issue and focused on it with the intent to see what we can do to change the dynamic."
http://english.alarabiya.net/en/News/middle-east/2015/03/15/Kerry-concedes-U-S-must-talk-to-Assad-to-end-Syria-war.html