Vietnamtask force possibly using Pakistan manufactured MP5s.
MP5 used by Vietnamese Police Mobile Task Force Regiment
May 2020 News Defense Global Security army industry
POSTED ON MONDAY, 04 MAY 2020 09:51




VietDefense published some recently broadcasted footage of the Vietnamese Mobile Task Force Regiment under Guard Police High Command. The MP5s used by the men seen in action are either the Turkish-manufactured models purchased from the American Company Zenith Firearms or those manufactured by Pakistan Ordnance Factories and directly bought from Pakistan.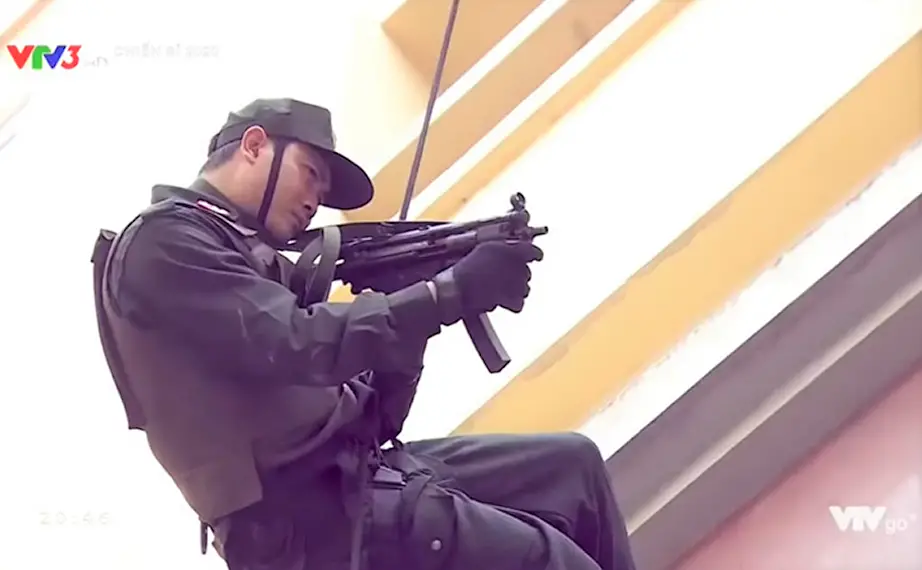 A member of the Vietnamese Mobile Task Force Regiment under Guard Police High Command armed with an MP5 (Picture source: via VietDefense)
The MP5 (which stands for Maschinenpistole 5 in German) is a 9x19mm Parabellum submachine gun, developed in the 1960s by a team of engineers from the German small arms manufacturer Heckler & Koch GmbH (H&K) of Oberndorf am Neckar. There are over 100 variants of the MP5, including some semi-automatic versions. The MP5 is one of the most widely used submachine guns in the world, having been adopted by 40 nations and numerous military, law enforcement, intelligence, and security organizations. It was (and sometimes remains) widely used by SWAT teams in North America, but has largely been supplanted by M16 variants in the 21st century. In 1999, Heckler & Koch developed the Heckler & Koch UMP, the MP5's successor; both are available as of 2020.
The MP5 is manufactured under license in several nations including Greece (formerly at EBO – Hellenic Arms Industry, currently at ΕΑΣ – Hellenic Defense Systems), Iran (Defense Industries Organization), Mexico (SEDENA), Pakistan (Pakistan Ordnance Factories), Saudi Arabia, Sudan (Military Industry Corporation), Turkey (MKEK), and the United Kingdom (initially at Royal Ordnance, later diverted to Heckler & Koch Great Britain).
Members of the Vietnamese Mobile Task Force Regiment under Guard Police High Command (Picture source: via VietDefense)