Shenyang's losing J-20 design Snow Owl is officially revealed
Posted on
July 21, 2020
Shenyang's losing submission for the People's Liberation Army Air Force (PLAAF) stealth fighter competition has been revealed officially for the first time.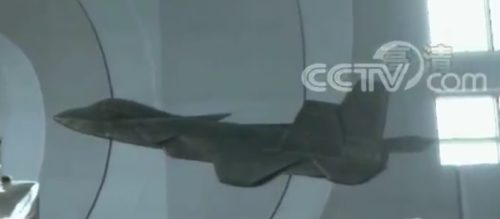 China Central Television (CCTV) has produced a second series of its documentary Memory of Military Industry – 军工记忆 – and in episode five, the subject was the Shenyang J-11.
In the video, viewers were taken to a gallery with models of aircraft in the hall. On the wall was the Snow Owl, Shenyang's project name for the 4th generation fighter it had proposed to the military.
The aircraft has a main double delta wing with tailplane and the addition of canards at the front. The design philosophy then was to achieve maneuverability over stealth. The PLAAF had set a requirement for 60 degrees angle of attack, similar to the F-22. To reach the goal, the designer Li Tian chose the three-wing layout. It is said that the Snow Owl had an angle of attack of up to 65 degrees during wing tunnel testing.
However, the shape of the aircraft lead to several weaknesses. First, the selection of the double delta creates a possible reflector for radar returns on the leading edge. In order to have three sets of wings, the fuselage is much longer compared to the J-20. This lead to heavier weights and increase demands on the engines. To reduce the overall weight, engineers at Shenyang reduce the size of the radome. This size of the radar was therefore smaller compared to Chengdu's winning design.