NORTH KOREAN tyrant Kim Jong-un has told his army to prepare FOR WAR – sparking fear across the globe.
Published: 18:04, Sat, February 28, 2015
By
Cyrus Engineer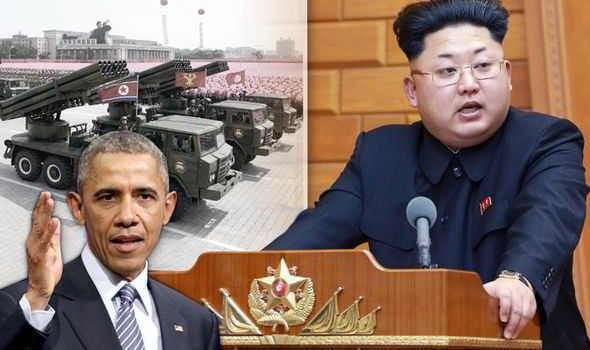 REUTERS
North Korea has been told to prepare for war
The brutal dictator made the chilling threat after the US and South Korea staged a joint navel drill involving nearly a dozen warships.
"The prevailing situation where a great war for national reunification is at hand requires all the KPA (Korean People's Army) units to become (elite) Guard Units fully prepared for war politically and ideologically, in military technique and materially," he told troops according to Korean Central News Agency (KCNA).
Kim, who commands one of the world's largest armies, told his forces to train so they can "tear to pieces the Stars and Stripes" – a reference to the American flag.
The US and South Korean drills were a prelude to an eight-week exercise called Foal Eagle which will involve air, ground and navy field training.
It will also involve some 200,000 South Korean and 3,700 US troops.
Both Washington and Seoul insist the military exercises are defence-based in their nature.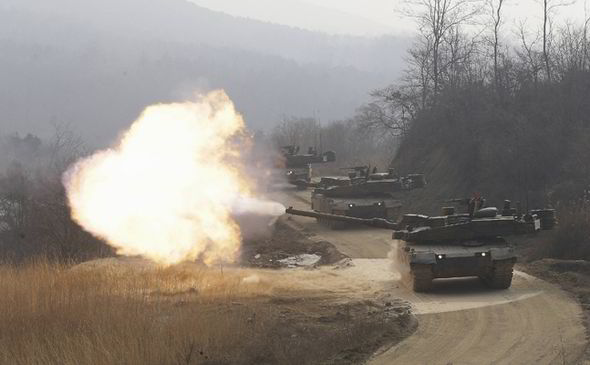 AP
A South Korean army K-2 tank fires during a live firing drill at a fire training field in Yangpyeong
It was recently revealed that
North Korea could have as many as 100 nuclear weapons by 2020
.
A report released by a US research institute predicted the rogue state's nuclear arsenal could dramatically increase in the next five years.
The report's author, Joel Wit, said: "This is a pretty scary scenario."
Sung Kim, U.S. Special Representative for North Korea Policy, told a Washington seminar said concern over North Korean advances was driving international diplomatic efforts "to find a credible path to negotiation so that we can stop North Korea's development of their nuclear capabilities."
He said Washington was "under no illusions" about North Korea's willingness to denuclearize voluntarily and would "continue to apply pressure both multilaterally and unilaterally" though sanctions to increase the cost of failing to do so.
GETTY
North Korea has huge numbers of troops to call on
Last year North Korea threatened to "blow up" the White House during a sabre-rattling attack on the US in the wake of the Sony hacking scandal.
A post published on KCNA called the US a "cesspool of terrorism" and said it had "clear evidence" that Hollywood blockbuster The Interview - featuring the assassination of North Korean leader Kim Jong Un - was a "propaganda attack" by the US.
The film was temporarily pulled by Sony before its scheduled release after hackers threatened cinema goers who saw the comedy.
The statement, translated from Korean, carried an implicit threat to American institutions and "citadels".
Last year North Korea made implicit threats against the US
"The DPRK [North Korea] has already launched the toughest counteraction," it said.
"Nothing is a more serious miscalculation than guessing that just a single movie production company is the target of this counteraction.
"Our target is all the citadels of the US imperialists who earned the bitterest grudge of all Koreans.
"The army and people of the DPRK are fully ready to stand in confrontation with the US in all war spaces including cyber warfare space to blow up those citadels."
North Korea leader Kim Jong Un orders army to PREPARE FOR WAR against USA and the West | World | News | Daily Express