Tunisia attack: eight reported killed as gunmen storm Tunis museum | World news | The Guardian
At least eight people have been killed in
Tunisia
after the country's prestigious Bardo museum came under attack, according to Tunisia's interior ministry.
The shooting broke out about midday local time (11.00 GMT), according to local reports. Radio Mosaique, a private radio station, reported that three men dressed in military-style clothing may have taken hostages inside the museum, adjacent to the national parliament building.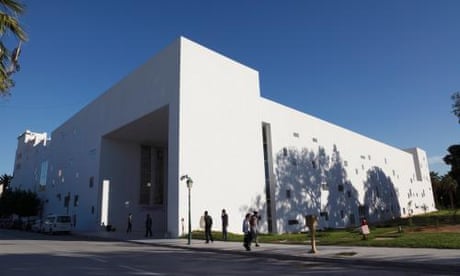 Tunisia attack: eight reported killed as gunmen storm Tunis museum
Read more
Interior ministry spokesman Mohamed Ali Aroui told the radio station that one of the dead was a Tunisian. He did not provide nationalities for the other victims.
The Bardo museum, which chronicles Tunisia's history and includes one of the world's largest collections of Roman mosaics, is one of the country's biggest tourist attractions.
Tunisian security forces were surrounding two militants holed up inside the Bardo museum that shares grounds with the country's parliament on Wednesday, an interior ministry spokesman said.
He said security forces were still verifying local media reports that the militants had taken tourists hostage during an attack on the parliament building.
One local lawmaker said there were injured inside the parliament after the attack
...................