UAE immunizes more than 20 million Pakistani children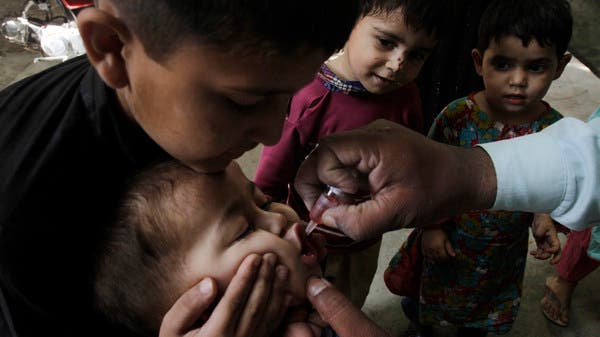 A Pakistani health worker gives a polio vaccine to a child in Lahore, Pakistan, Wednesday, May 20, 2015. (File Photo: AP)
By Staff Writer | Al Arabiya News
Sunday, 12 July 2015
The UAE has carried out more than 20.6 million polio immunizations for Pakistani children, reported
Gulf News
on Saturday.
Nearly 87 million vaccines were directed as part of the Emirates Polio Campaign till May this year, Abdullah Khalifa Al Gafli, Director of UAE Pakistan Assistance Program (UAE-PAP), said.
The campaign was created under the directives of UAE President Shaikh Khalifa Bin Zayed Al Nahyan in an initiative by Sheikh Mohammad Bin Zayed Al Nahyan, Crown Prince of Abu Dhabi and Deputy Supreme Commander of UAE Armed Forces.
"The UAE has played a major role in funding these operations and as a consequence of this and through a heightened level of political commitment we have successfully tackled polio," said Senator Ayesha Raza Farooq, who is heading the campaign.
"Thanks to the concerted efforts and through the help of the UAE, all agencies of Federally Administered Tribal Areas (FATA) are now accessible to health workers and polio vaccination is in full swing," she added.
The campaign was launched after World Health Organization reports had indicated the seriousness of the increase in the number of cases detected in Pakistan in 2014.
Last Update: Sunday, 12 July 2015 KSA 12:53 - GMT 09:53
http://english.alarabiya.net/en/life-style/healthy-living/2015/07/12/UAE-immunizes-more-than-20-million-Pakistani-children.html