The United Arab Emirates (UAE) is taking major steps to develop indigenous capabilities to develop airdropped weapons.
Like their neighbors in Saudi Arabia, the Emiratis envision developing high-tech defense capabilities and exporting them. But the move also reflects the Gulf state's recent struggles in procuring advanced weapons from the U.S.
In July, the U.S. Congress blocked plans to transfer guided rockets and missiles to Abu Dhabi and Riyadh over humanitarian concerns about the Saudi-led campaign in Yemen. It was only President Donald Trump's controversial veto of the resolutions that allowed the transfers to take place.
- MBDA to work with Tawazun to develop SmartGlider weapon in the UAE
- EDGE is developing a more capable version of the Al-Tariq bomb kit
Today, the UAE may be trying to extricate itself from the Yemeni conflict, but a recognition of the need to secure the supply lines for munitions to support its hard-hitting air power capability is not lost. What is emerging is a highly specialized capacity to produce bespoke but valued precision-guided air-to-ground weapons.
The UAE is no stranger to weapons development. In the 1980s, it worked with Britain's Marconi Dynamics to develop a bespoke weapon—the PGM500, a family of glide bombs with laser, TV and infrared imaging seekers, known locally as the Hakim, which were developed to be carried from both the UAE's Dassault Mirage 2000 and F-16s.
The capabilities provided by the Hakim are now being developed at home within the newly established EDGE defense holding company established in the weeks prior to the Dubai Airshow.
Some 25 local defense companies were absorbed into EDGE; two of them, Al-Tariq and Halcon, form part of the group's Missiles and Weapons cluster.
Of these, Al-Tariq is perhaps the most familiar. Renamed from Barij Dynamics and before that Tawazun Dynamics, Al-Tariq is a joint venture between EDGE and South Africa's Denel Dynamics. The joint venture is responsible for producing Al-Tariq kits that transform dumb bombs into precision-guided munitions, some with wings enabling a glide range of up to 120 km (75 mi.).
Since 2012, Al-Tariq has produced more than 6,000 guidance kits for both the Mk. 81 250-lb. and Mk. 82 500-lb. bombs, in a so-called Block 1 configuration, primarily equipping the United Arab Emirates Air Force Dassault Mirage 2000-9s. The company is now working with Lockheed Martin to introduce the weapon on the F-16 Block 60s also operated by the UAE Air Force.
Al-Tariq is also working on a Block 2 guidance kit introducing a modernized navigation system and a power pack to reduce the weapon's dependence on the carrier aircraft's electrical power system.
Engineers are looking to extend the range of the weapon using a turbojet, essentially turning the weapon into a cheap cruise missile.
Production of the more capable Block 2 Al-Tariq bomb kits is slated for mid-to-late 2020. Credit: Tony Osborne/AW&ST
"This is the weapon of choice for the UAE Air Force," Theunis Botha, general manager of Al-Tariq, told Aviation Week. But he pointed out that the local solution has to be as competitive as those sourced from elsewhere.
Al-Tariq competes for the UAE's interest along with Raytheon's Paveway, Boeing's Joint Direct Attack Munition and other kits such as the Teber developed by Turkey.
Al-Tariq has attracted regional interest too. The company has been one of the drivers for extending the range and introducing the power pack that gives the weapon an 8-hr. autonomy and allows the customer to be less reliant on the aircraft's OEM for integration.
Halcon is the lesser known of the two companies. Unlike Al-Tariq, it appears to be
entirely homegrown
, developing its own family of weapons and performing warhead design. It produces two families of weapons: The Thunder, which is a precision guidance kit for dumb bombs, and the Desert Sting, a new family of small, low-collateral munitions with warheads weighing 5-35 kg (11-77 lb.). Both are suitable for light attack platforms and unmanned aircraft systems.
"
Halcon is a 100% UAE company, and we own 100% of the [intellectual property], manufacturing all of the parts
," Halcon Design Engineer Khalifa Al Tamimi said at the Dubai Airshow. The company scored its first major contract worth $1 billion at the event, a deal with the UAE to deliver the Desert Sting weapon.
Quantities and delivery dates were not revealed. Halcon's Thunder is integrated on the Mirage 2000, while the Desert Sting is being targeted at the new Calidus B-250 light attack platform, 24 of which have been ordered by the UAE military (AW&ST Nov. 25-Dec. 8, p. 21).
With Halcon and Al-Tariq brought under the EDGE holding company, officials say there will likely become more cooperation between the two, where there was once competition.
European missile house MBDA has also seen an opportunity to plant its own flag in the UAE, signing agreements with the Tawazun Economic Council to pursue the local development of the SmartGlider family of glide bombs. The SmartGlider was first unveiled at the 2017 Paris Air Show in response to a growing international need for aircraft that would not only be able to carry more weapons but also be capable of dealing with a wider range of target sets.
MBDA wants to be able to arm the UAE's Mirage 2000s with up to 12 SmartGlider weapons carried on specially developed launchers.
"We are giving [the UAE] a lot of technology and knowledge," says Francois Moussez, a former Rafale pilot and one of MBDA's military advisors. "This would be a significant steppingstone toward more advanced capabilities."
Together, MBDA and Tawazun will set up an engineering center to work on the SmartGlider weapon and also establish a local flight testing capability. They hope the facilities and development work could get underway within two years.
Project with European MBDA for smart glider bomb.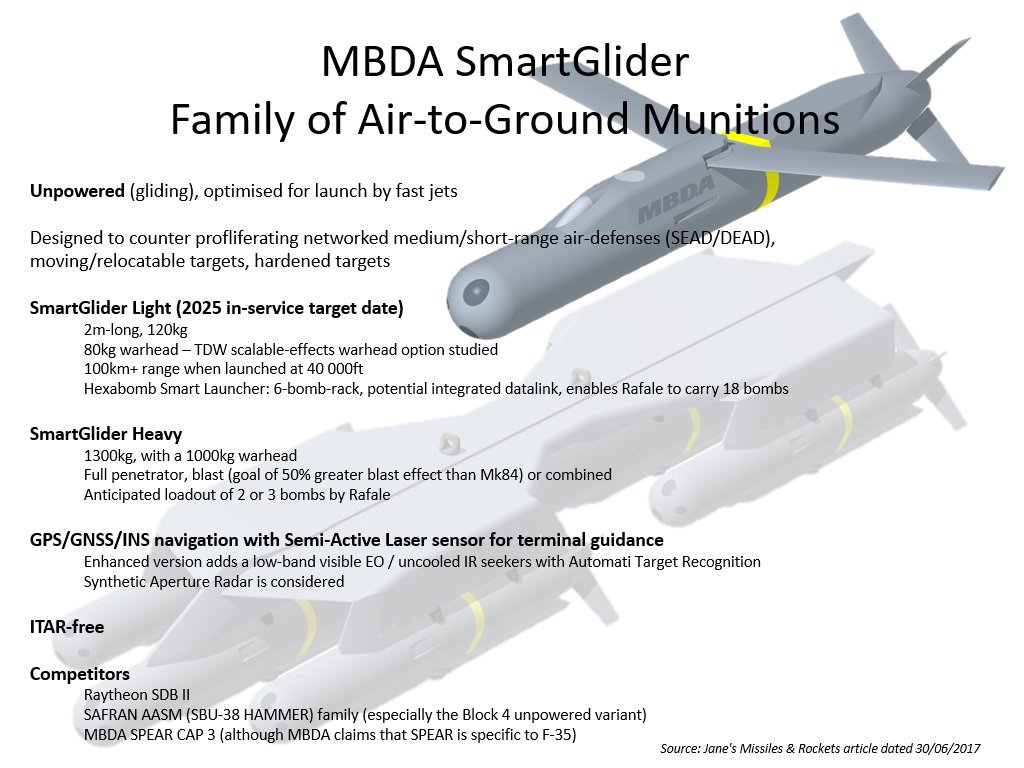 UAE and South Africa project to add a turbojet to a dumb bomb to extend range to 200km or higher.
Halcon UAE projects for JDAM and MAM-L/MAM-C type missiles
South Korea and UAE project to develop Hellfire type missile.
Last edited: