Ukraine in maps: How the crisis spread
The crisis in Ukraine began in November 2013 when pro-Moscow President Viktor Yanukovych abandoned a deal with the EU in favour of stronger ties with Russia.
Protests erupted in the capital Kiev and quickly escalated as government buildings were seized in cities across the western regions of Ukraine.
Protests in western Ukraine, January 2014
On 20 February, 2014 at least 88 people were killed in 48 hours in Kiev.
Ukraine has been torn between east and west since the collapse of the Soviet Union in 1991. While Ukrainian is the main language in western regions, Russian is predominant in parts of the east and south.
The division is also reflected in voting patterns. Mr Yanukovych received most support in the southern and eastern regions of Ukraine in the 2010 election.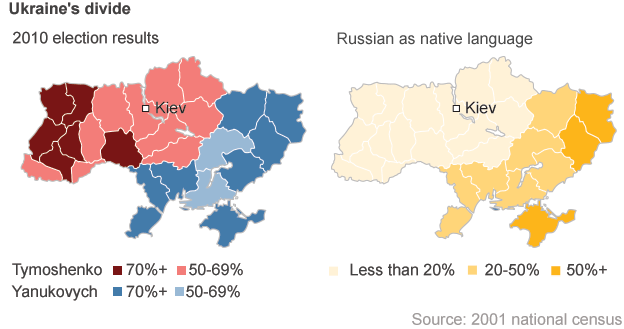 Protests spread south to Crimea
On
27-28 February
pro-Russian gunmen seized key buildings in the Crimean capital, Simferopol.
Within days parliament voted to join Russia and called a referendum.
Russia later admitted that its military had helped the Crimea insurgents.
The majority of Crimea's 2.3 million population identify themselves as ethnic Russians and speak Russian - a legacy of Russia's 200-year involvement in the region.
Russia's Black Sea Fleet also has its historic base in the Crimean coastal city of Sevastopol.
On 16 March, 97% of voters reportedly backed the proposal to join Russia
. That figure was later disputed, with leaked documents showing only 50-60% support for the move.
The EU and US condemned the annexation of Crimea and imposed a first round of sanctions on Russian officials and high-ranking Moscow allies in Ukraine.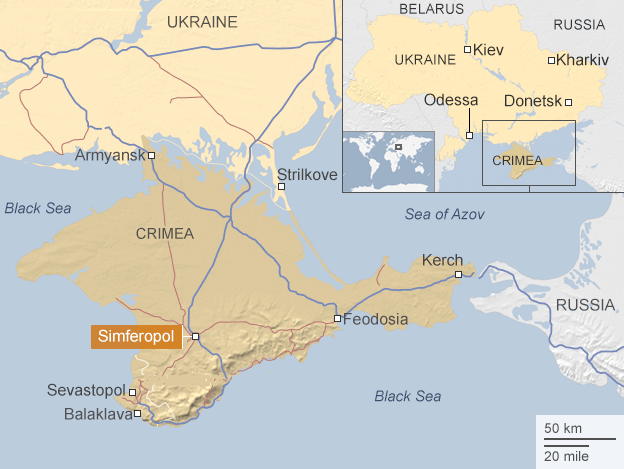 Trouble spreads east
Pro-Russian sentiment is strong in eastern regions such as Donetsk and Luhansk, Ukraine's industrial heartland. After the withdrawal of Ukrainian troops from Crimea, there were reports of large numbers of Russian troops gathering just over the border.
On
7 April
protesters occupied government buildings in the eastern cities of Donetsk, Luhansk and Kharkiv.
Although Kharkiv was retaken the following day,
the occupations spread to other cities
, and a number of pro-Russian leaders declared that referendums on granting greater autonomy to eastern regions would be held.
Towns targeted by separatists, April 2014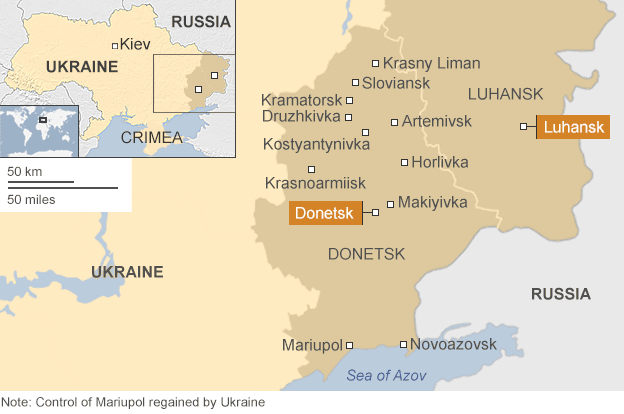 Eastern referendum
On
11 May
pro-Russian separatists in Donetsk and Luhansk declared independence after the referendums, which were not recognized by Kiev or the West.
A build-up of Russian troops on the shared border in April sparked concern that another annexation could take place.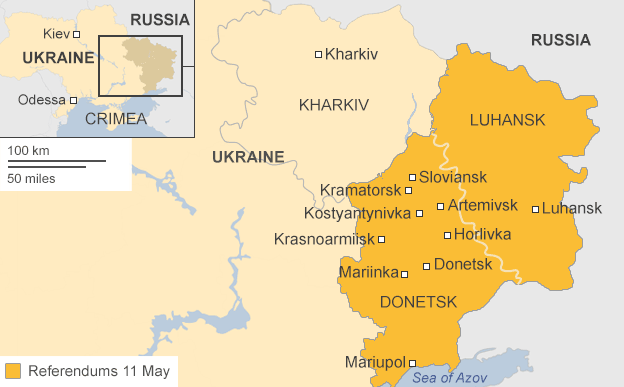 Presidential election
Elections for a new president in Ukraine were held on
25 May
resulting in confectionery tycoon
Petro Poroshenko
being elected with over 55% of the vote, although no polling stations were open in Donetsk city and several other locations.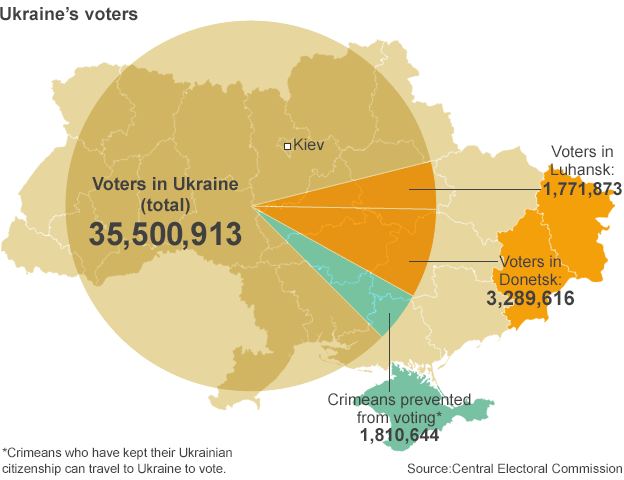 On
20 June
President Poroshenko announced a 15-point peace plan and declared a week-long truce. It held for a few days until a military helicopter was shot down over eastern Ukraine.
With a government offensive launched once more, on
5 July
rebels abandoned strongholds in the north of Donetsk region, withdrawing to a smaller area of insurgency in the south.
Malaysia Airlines tragedy, 17 July 2014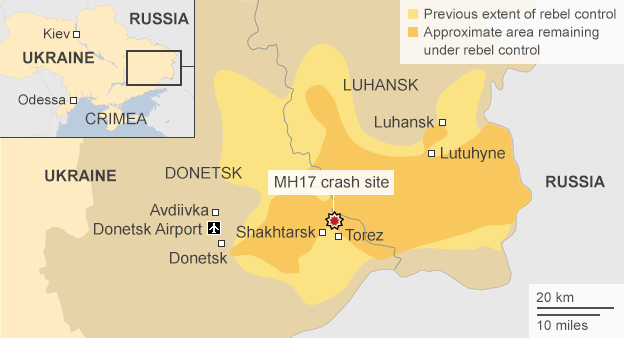 On
17 July
Malaysia Airlines flight MH17 from Amsterdam was shot down near the village of Grabove in rebel-held territory close to the border with Russia.
Almost 300 people were killed in the crash - everybody aboard the airliner. Western nations blamed a Russian-supplied missile, believed to have been fired by rebels.
Russia denied it had armed the rebels and argued instead that a Ukrainian fighter jet had flown near the airliner at the time.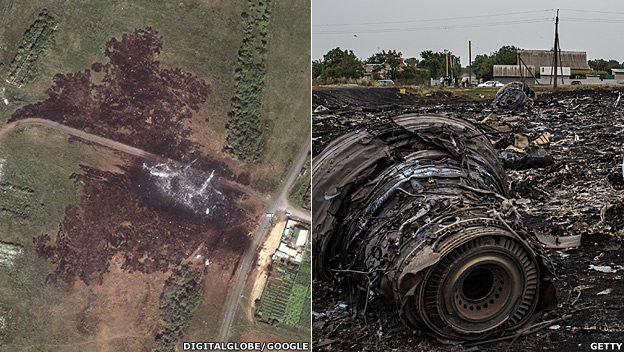 Satellite image shows plane debris littering a wide area near the village of Grabove
Ukraine insists Russian regular forces are involved in the fighting in Ukraine. It has also accused the Russian authorities of allowing well-trained volunteers and heavy weapons to cross the border to help the rebels. Russia dismissed those accusations, yet the rebel leader in Donetsk said many Russian soldiers
had joined the rebel cause.
New front
Ukrainian forces made gains in some areas previously held by the rebels. But on
27 August
the rebels - allegedly backed by Russian heavy armour - opened up a new front on the coast, seizing the town of Novoazovsk and threatening the strategic port city of Mariupol.
Ceasefire
A ceasefire
was agreed
on
5 September
between Ukraine and the pro-Russian rebels in the east. Signed in Minsk, Belarus, it was violated just four days later when fierce fighting erupted around Donetsk airport.
The battle for the airport continued with the Ukrainians remaining in control, although the airport was now so badly damaged it closed to flights.
Elsewhere in the east there were repeated violations of the truce.
Nato announced it was setting up a rapid reaction force in response to Russia's actions over Ukraine.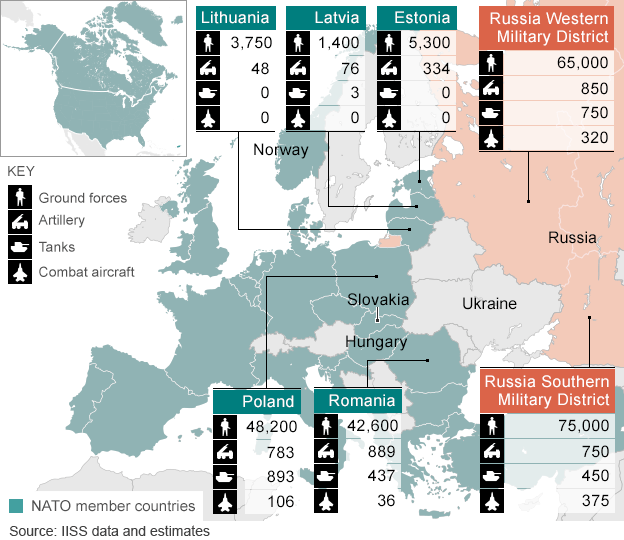 Fresh elections
On
26 October
Ukrainians voted for a new parliament. Pro-West parties triumphed but the polls were boycotted in the rebel-held east - which went on to hold its own elections on 2 November.
Two pro-Russian leaders were declared the winners - but President Petro Poroshenko immediately threatened to scrap a law - agreed under the 5 September truce - which gave special status to Donetsk and Luhansk.
Ukraine's economic ties
The EU and US have imposed a series of asset freezes and travel bans on many senior Russian officials and separatist leaders.
But at least six Russian companies, including the state oil giant Rosneft and two of the country's biggest banks, have now filed complaints against the sanctions at the European Court.
Ukraine imports much of its gas and oil from Russia. About a quarter of
Europe's gas also comes from Russia
.
In October, Ukraine, Russia and the EU signed a deal for Moscow to resume vital gas supplies - cut off since June - in return for Kiev settling its debts, with the EU acting as guarantor.
The EU has also agreed to postpone the implementation of a free trade deal with Ukraine until January 2016, which is being seen as a concession to Russia.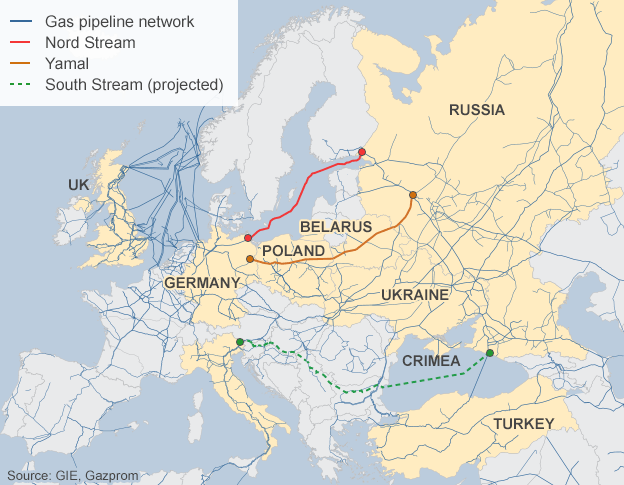 Ukraine is still heavily in debt. A rescue package offered by Russia earlier in the year was cancelled after the protesters forced out Mr Yanukovych.
The International Monetary Fund approved a $17.1 bn (£10.1 bn) bailout for Ukraine in April. With funds from other donors, including the EU, the total package will be worth £32.1bn.
But the loan was dependent on strict economic reforms, including raising taxes and energy prices.
In September the IMF warned that Ukraine could need a further $19bn in emergency funding if there was no resolution to the conflict.
But the fighting continued.
Donetsk airport falls
In
January 2015,
fighting between the army and Russian-backed separatists intensified in and around Donetsk as well as in Luhansk region. Both sides seemed to be battling for new ground, keen to strengthen their negotiating positions ahead of any "peace summit".
On
22 January
, Ukrainian forces withdrew from Donetsk airport's main terminal, the scene of weeks of bitter fighting. The airport is strategically important. Government forces have now abandoned the main part of it, from where they have been able to shell rebel positions inside nearby Donetsk - the largest city held by the militants.
Its capture could help the rebels to resupply - allowing munitions, hardware and manpower to be airlifted into the conflict zone. But drone images of the airport taken in January show how devastated the terminal building is.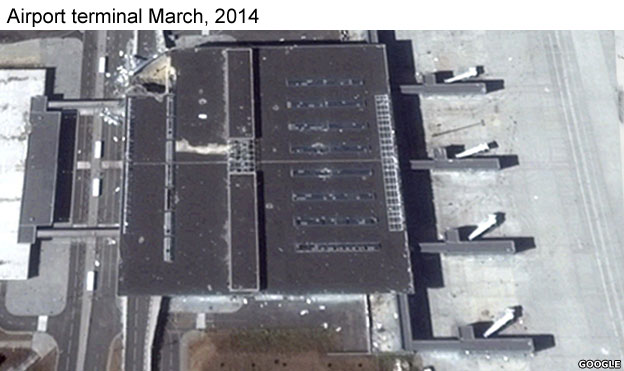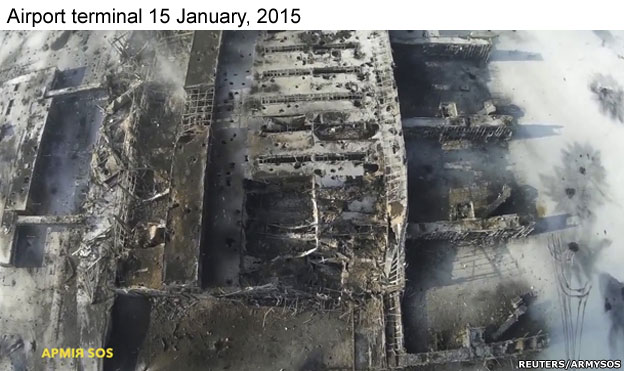 The rebels continued their offensive in February.
The fiercest fighting has been near the town of Debaltseve, where the rebels are trying to surround Ukrainian troops. The town is a crucial rail hub linking the rebel-held cities of Donetsk and Luhansk.
February diplomatic push
As clashes continue there has been a renewed diplomatic push to end the fighting.
French President Francois Hollande and German Chancellor Angela Merkel are in the capital Kiev to present a new peace initiative. US Secretary of State John Kerry, who is also in Kiev, said the US wanted a diplomatic solution, but would not close its eyes to Russian "aggression".
The talks in Kiev come as Nato plans to bolster its military presence in Eastern Europe in response to the Ukraine crisis - with a new rapid reaction "spearhead" force of up to 5,000 troops expected to be announced.
US President Barack Obama is said to be considering sending "defensive" weapons to Ukraine - a move Russia has warned would "inflict colossal damage to Russian-American relations".
BBC News - Ukraine in maps: How the crisis spread