GENERAL ATOMICS DEMONSTRATES SATCOM-ENABLED UAV LAUNCH AND RECOVERY
Bilal Khan
Jan 23, 2018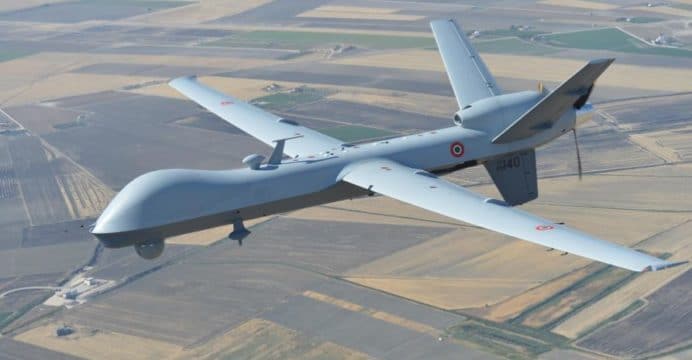 General Atomics MQ-9 Reaper. Photo source: General Atomics
General Atomics Aeronautical Systems, Inc. (GA-ASI) announced that it has successfully demonstrated its satellite communications (SATCOM)-enabled Automatic Takeoff and Landing Capability (ATLC) through its MQ-9B SkyGuardian/SeaGuardian unmanned aerial vehicle (UAV).
In an official
press release
, General Atomics states that the ATLC will enable MQ-9B users to taxi the MQ-9B through SATCOM directly. This SATCOM-enabled Launch and Recovery Element (LRE) will negate the need for ground-control stations (GCS) to manage UAV LRE (i.e. take-off and landing).
When relying solely on GCS, drone operators will face a range limit set by the earth's curvature (though it can also include obstructions, such as mountains). SATCOM enables drone users to operate their aircraft at beyond-line-of-sight (BLOS) range.
Currently, the GCS would manage the take-off and flight until it must 'hand-off' control to SATCOM (and SATCOM would hand-off to the GCS for landing). General Atomics' system will remove this process.
General Atomics states that the Royal Air Force's MQ-9Bs – scheduled for delivery in the early 2020s – will be the first drones to incorporate SATCOM LRE. By removing the need for GCS, MQ-9B operations require fewer personnel and a reduced infrastructure presence for forward deployed operations.
"MQ-9B is continuing its momentous development, which now includes SATCOM taxi, takeoff, and landing capability," said David R. Alexander, General Atomics' President of Aircraft Systems. "When we partnered with the RAF … we identified SATCOM ATLC and SATCOM taxi as important safety and efficiency features, and we're proud to have demonstrated it successfully using one of our capital aircraft."
The
MQ-9B
is a medium-altitude long-endurance (MALE) UAV capable of intelligence, surveillance and reconnaissance (ISR) operations and deploying guided air-to-surface munitions, such as anti-tank guided missiles. It has a payload of 1,700 kg available through seven external hardpoints.
In addition (or as an alternative) to munitions, the MQ-9B can also be equipped with various sensors, including multi-mode radars, maritime surveillance radars and signals intelligence systems.
The MQ-9B has an endurance of 27 hours (or 35 hours with a range extension kit) and flight ceiling of 45,000 ft, enabling end-users to undertake long-endurance ISR operations over land and at-sea. Countries could use the MQ-9B as a relatively low-cost and low-risk (from a personnel safety standpoint) means for building situational awareness and, in counterinsurgency environments, seeking and neutralizing threats.
https://quwa.org/2018/01/23/general-atomics-demonstrates-satcom-enabled-uav-launch-and-recovery/?utm_source=Quwa+Free&utm_campaign=d9afeec203-RSS_EMAIL_CAMPAIGN&utm_medium=email&utm_term=0_290f015d1a-d9afeec203-206475549