US, Gulf States To Deepen Military Ties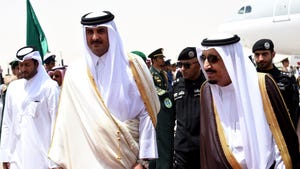 US President Barack Obama, second left, sits next to the emir of Kuwait Sheikh
.
CAMP DAVID, Md. — The United States and its Gulf allies on Thursday agreed to deepen their military partnership and jointly counter external threats, in the face of Iran's growing role in the region.
Addressing reporters after a Camp David summit with six Gulf leaders, US President Barack Obama said: "I am reaffirming our ironclad commitment to the security of our Gulf partners.
"As we've declared in our joint statement, the United States is prepared to work jointly with GCC member states to deter and confront an external threat to any GCC state's territorial integrity that is inconsistent with the UN charter," he said.
In the statement, the leaders said they agreed "to enhance their work to improve security cooperation, especially on fast-tracking arms transfers, as well as on counter-terrorism, maritime security, cybersecurity, and ballistic missile defense."

And the statement specifically named Iran, a traditional foe of both Washington and the Sunni-led Gulf Arab monarchies, as one of the threats they would work together to deter.

"The United States and GCC member states oppose and will work together to counter Iran's destabilizing activities in the region," the statement said.

Obama called the summit to reassure nervous Gulf allies that the United States is not turning its back on them even as it is trying to forge a deal with Tehran to limit Iran's nuclear program.

"But I want to be very clear," he added. "The purpose of security cooperation is not to perpetuate any long-term confrontation with Iran or even to marginalize Iran."

US, Gulf States To Deepen Military Ties