Putin Orders His Military To Be More Aggressive In Syria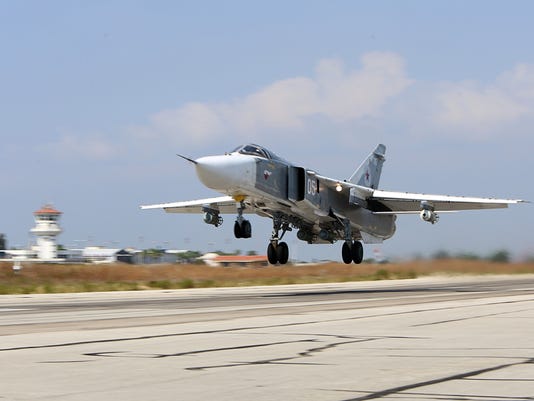 In a speech before his senior Defense Ministry officials in Moscow on Friday, President Vladimir Putin ordered his armed forces to "act as toughly as possible" in defending its air contingent currently deployed in combat operations in Syria.
His remarks were delivered just two weeks after a Turkish F-16 fighter jet shot down a Russian Su-24 fighter-bomber when it allegedly infringed on Turkish airspace, and appeared to be directed at Ankara — which Putin has since accused of aiding the Islamic State group in Syria.
"I want to warn anyone who might again try to organize a provocation against our troops," Putin said. "Any targets threatening the Russian air grouping or our land infrastructure should be immediately destroyed," Putin said.
The Russian president struck a different tone with regards to nations that Moscow is actively trying to court in Syria, such as the United States and Israel — which are conducting their own operations against IS targets.
"I am talking about contact with the Israeli Air Force command posts and with the forces of the [anti-IS] coalition led by the U.S.," Putin said, before moving on to praise the military for its efforts against the terrorist group.
Putin also used the opportunity to deny widespread claims that Russia is in Syria to pursue wider geopolitical goals — such as asserting its role as a major world power, and finding a means to leverage its favor with Syrian President Bashar Assad to break Western sanctions imposed for Moscow's annexation of Crimea from Ukraine in 2014.
"Our actions are not dictated by some abstract, vague, geopolitical interests," Putin said. "We are not testing our new weapons or demonstrating our might, which of course is also important … but the main thing is to protect Russia."
In remarks delivered following Putin's address, Defense Minister Sergey Shoigu laid out the scale of the threat, as seen by the Russian national security community: IS controls about 70 percent of Syria, and has some 60,000 militants under its command in Syria and Iraq.
"The Islamic State's area of influence in expanding. There is a threat that their actions will spill over into Central Asia and the Caucuses," Shoigu said, reflecting a widespread concern in Moscow that extremists from the former Soviet Union and southern Russia will return home to fight.
This has been the stated purpose of Russia's aerial intervention in the Syrian civil war since operations began on Sept. 30. The scale of that operation has since nearly doubled, and Shoigu claimed his forces have flown about 4,000 sorties in 10 weeks, resulting in the destruction of over 8,000 pieces of military infrastructure under the control of extremists in Syria.
The two spoke about Russia's ongoing 20-trillion ruble ($286.9 billion) decade-long military rearmament program, with Putin stressing that the defense industry must complete orders on time and on budget — there is simply no more money to be had.
Russian defense spending is expected to remain essentially flat in 2016, ending a trend of year-on-year budget hikes since the program went into force five years ago — Shoigu estimated the program to be about 47 percent complete at this point.
According to Shoigu, in 2015, the Russian military received 243 new aircraft, 90 new air defense systems, 208 radar systems, 18,000 modern communications units — but in total received about 57 fewer units of arms than in 2014.
Shoigu also spoke about Russian procurement plans for 2016. Though the majority of the procurement agenda is not known publicly, Shoigu said the Russian Navy would receive seven new surface vessels and two submarines. The Air Force, for its part, will receive two modernized Tu-160 supersonic strategic bombers, and seven of the older Tu-95 propeller-driven strategic bombers.
Russia's nuclear forces, a heavy focus of the rearmament program, are also set to receive five new regiments of ballistic missiles in 2016, Shoigu said.
Putin Orders His Military To Be More Aggressive In Syria