As Second Front Against India: Could China Sell Used J-10A/B Fourth Generation Fighters to Pakistan


Pakistani Air Force has made considerable investments in improving the capabilities of its fighter fleet over the past decade, with modernisation efforts centred around purchases of the JF-17 Block 2 fourth generation multirole fighter jets and some minor purchases of F-16C/D Fighting Falcons made to complement them. The country's entire fleet is today comprised of single engine lightweight aircraft, the vast majorly of which are Mirage III and Mirage 5 second generation platforms and newer J-7 third generation jets. These three designs all date back to the 1960s or earlier but have seen modest upgrades to their capabilities since. Other than the JF-17, which similarly to the Swedish Gripen and Indian Tejas was designed to prioritise a low operational cost, Pakistan appears to have no plans to induct new fourth generation aircraft into service in the near future despite the growing obsolescence of the majority of its fleet and India's
investment in large numbers of advanced fourth and '4+ generation' aircraft
. With China seeking to bolster Islamabad's military capabilities, and shouldering the bulk of development costs for major weapons programs such as the JF-17 despite not operating the aircraft itself, the possibility that China could seek to provide Pakistan with modern combat aircraft in parallel to its support for the JF-17 program has been raised multiple times.

Pakistani Air Force Mirage III Legacy Fighter
China's People's Liberation Army (PLA) Air Force operates a single class of fourth generation single engine fighter, the Chengdu J-10, which entered service in 2006. The fighter's capabilities were initially considered roughly analogous to the American F-16C Fighting Falcon, although slightly superior with the much newer Chinese design boasting higher use of composite materials for a lighter airframe, a much more powerful engine, a superior flight performance and access to superior air to air missiles. The fighter also benefitted from an infra red search and track system which the F-16 lacked, and its thrust/weight ratio was according to several reports the highest in the world and far above that of the American Fighting Falcon. In 2006 it was reported that Pakistan had shown an interest in the J-10B, with such reports again surfacing in 2009, 2011 and 2012. This would have provided the Pakistani Air Force with two classes of Chinese fourth generation fighters, with the service also acquiring the JF-17 at the time, although the more costly J-10 was to be acquired in much smaller numbers and had superior capabilities across the spectrum from speed to situational awareness. How serious the Pakistani Air Force ever was about a J-10 purchase, when investment in more JF-17 fighters could provide many more aircraft for the same price and the benefits of domestic licence manufacturing, remains uncertain, but in 2016 it was reported that prospects for a deal had ended.

JF-17 (front) and J-10 Light Fighters
China's Chengdu Aircraft Industry Group has since ceased production of the J-10A and B models, with approximately 300 of the former and 200 of the latter today in service, and instead moved to begin production of the J-10C. This represented a major leap in capabilities from a relatively basic fourth generation design to what is
widely considered the world's most capable '4++ generation' single engine fighter
. Approximately 180 J-10C fighters are thought to have entered service since the class was first introduced in April 2018, and the platforms form the
elite of the PLA Air Force alongside the heavyweight J-16 and fifth generation J-20
. The J-10C benefits from the same low maintenance requirements and low operational costs of its predecessors relative to heavier Chinese designs such as the J-16, but also makes greater use of composite materials, integrates a powerful AESA radar rather than a passive one providing greater reliability and situational awareness, and has a reduced radar cross section and stealth coatings for improved survivability. The fighter has also integrated an indigenous WS-10B engine replacing the less powerful Russian AL-31 relied on by early J-10 variants. It has three dimensional thrust vectoring capabilities on its engine, the only single engine fighter in the world to do so, and is compatible with the PL-15 long range air to air missile which is the only one in the world to benefit from AESA radar guidance.

J-10C '4++ Generation' Fighter
With the J-10C currently in mass production, and proving highly capable in combat
even against very high end heavyweight jets such as the Su-35
during war games, a significant number of Chinese analysts have advocated an early retirement for the J-10A and possibly B variants. Although these were built with a lifetime of well over 40 years, and have served at most 14 years, the very fast modernisation of China's defence sector my well have made further J-10C acquisitions a more cost effective option to replace at least several squadrons of the older jets. This being the case, the opportunity has arisen for China to sell its J-10A fighters on to Pakistan, where they would seriously bolster the South Asian country's aerial warfare capabilities. The J-10A would represent by far the most capable fighter in Pakistani service, rivalled only by the latest F-16C fighters which are fielded in small numbers and suffer from a number of serous disadvantages relative to the newer Chinese design. The J-10 would fit well into the Pakistani fleet due to its almost identical role and similar performance to the F-16 and its use of the same munition types as the JF-17.
Despite the attraction of acquiring new high performance fighters from the F-16C's weight and performance ranges at a low cost, there are a number of reasons why the Pakistan's armed forces may not be attracted to the idea of acquiring the J-10A. Fourth generation fighters tend to be heavier and cost much more to operate than their second and third generation counterparts, and while the JF-17 is a partial exception to this rule the larger F-16 and J-10 platforms with their much more powerful engines are not. Due to the J-10's considerably higher operational costs than either the JF-17 or the much smaller Cold War era fighters it would be replacing, the Pakistani Air Force would likely be forced to contract its fighter fleet by at least a full squadron for each J-10 squadron formed to be able to afford fielding them. This contrasts to the JF-17, which though less capable than the J-10 benefits from many of the same technologies and has a much lower operational cost. Although the J-10 would represent Pakistan's most capable fighter for a time the
entry into service of the upcoming JF-17 Block III '4+ generation' fighter
would change this. While the new JF-17 variant has weaker engines and a poorer flight performance than the J-10A, it
benefits from an AESA radar, access to PL-15 missiles
and a radar cross section reducing profile - many of the same technologies integrated onto the J-10C. This combined with its lower operational cost and the fact that it can be built in Pakistan itself would likely make it a favourable option.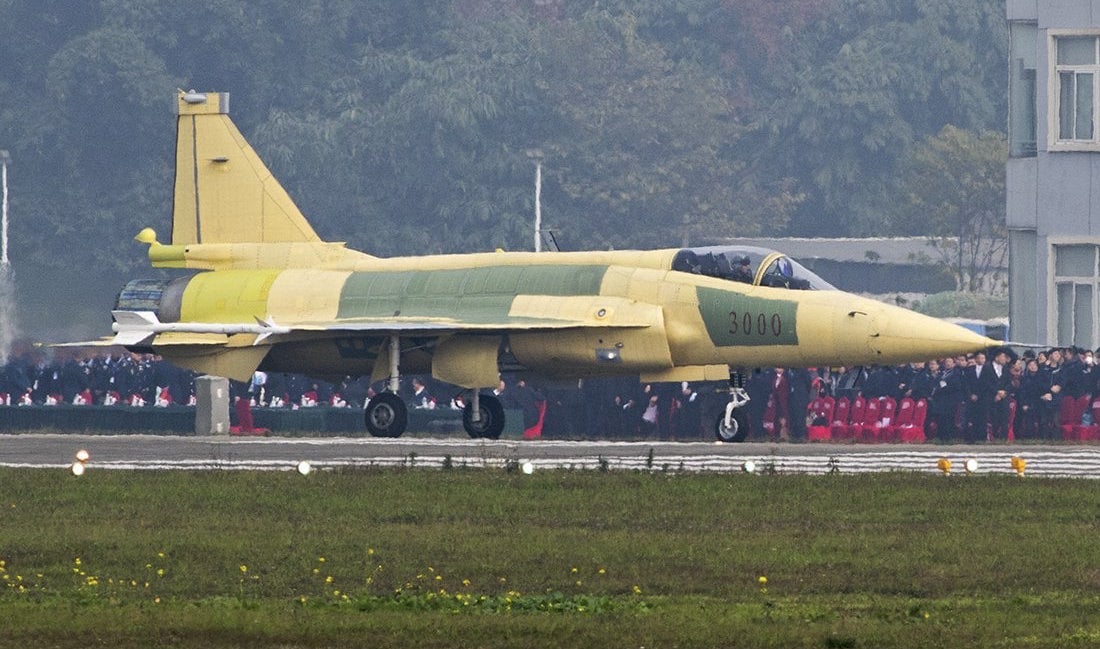 JF-17 Block III '4++ Generation' Lightweight Fighter
Ultimately it remains uncertain whether China will seek to retire the J-10A or B variants in the near future, or whether Pakistan will express an interest, but the upcoming JF-17 Block III program which promises to provide a more cost effective fighter with overall superior air to air capabilities is likely to undermine the appeal of such a purchase. This does not mean, however, that Pakistan will not acquire Chinese jets either new or second hand in the near future, and while the JF-17 Block III is promising there are several roles it cannot fulfil. The JH-7 strike fighter, which can be used to penetrate deep into enemy airspace or for a maritime strike role, is one possibility, and would revolutionise Pakistani air to ground capabilities which are currently quite limited. With India considering investments in several very high end aircraft such was the Su-57 and MiG-35, Pakistan may also seek more advanced '4++' or fifth generation fighters from China including 'off the shelf' J-10C fighters or even FC-31 medium weight stealth fighters, sacrificing numbers to cover the operational costs of a far superior aircraft. The future of the Pakistani Air Force remains somewhat uncertain, and much will depend on whether the Defence Ministry is willing to invest in heavier more costly aircraft with more specialised capabilities, or whether the already significant capability enhancements which will be provided by the JF-17 Block III and upcoming Project AZM stealth fighter will be deemed sufficient to avoid the need for investment in 'off the shelf' Chinese built models.
Last edited: